Fee Schedules – Cloud Accounting, Payroll, Tax & XBRL Services
Our Singapore accounting firm offers one-stop compliance solutions to support Singapore business owners in running their day-to-day operations.
Our fee is based on the estimated hours to complete the services and for bookkeeping, it is dependent on the number of transactions we are keying into the Cloud accounting system.

The Accounts Executive is the main point of contact and assist you to comply with the annual statutory reporting and filing obligations to ACRA and IRAS. His work is reviewed by an Accountant.

We believe in nurturing a long term relationship with Singapore business owners, assist in growing business steadily, through delivering consistent, quality and efficient services, and at a fee that matches budget and service level expectations.
For a custom quote or professional advice, please complete the quotation form and our team will contact you to understand your concerns.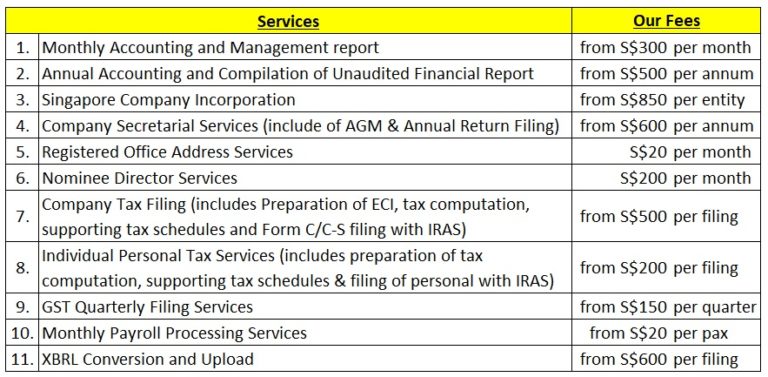 ---
Below is the general fee guideline for our business services.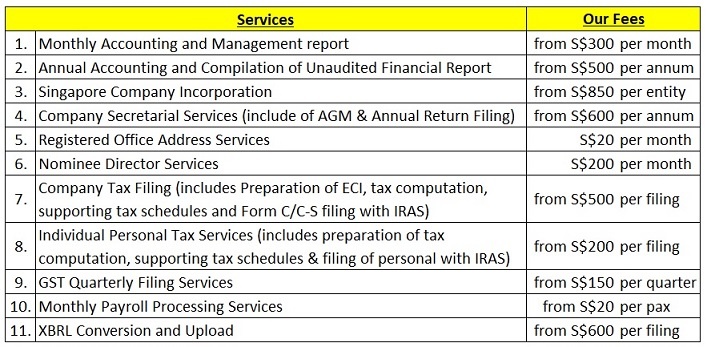 1. Cloud Accounting, Bookkeeping & Monthly Payroll Processing Service



Our cloud accounting, bookkeeping and payroll service include the following:
request for source documents (sales, purchases, suppliers' invoices and monthly bank statements);

management of the trial balance & general ledger;

maintain the accounts receivables and accounts payable ledgers;

prepare fixed asset schedule;

prepare monthly management accounts,

prepare year-end financial statements with Directors' Report;

prepare payment vouchers;

set up of accounting chart of accounts for new companies;

compilation of annual accounts:

record journal entry and posting to general ledger;

record all business transactions (including sales and

expenses);

p

repare monthly bank reconciliation; and

monthly payroll processing services

.



2. Tax Compliance Service (Company, Personal & GST Filing)



Our tax service includes the following:
monitoring of the statutory tax filing deadlines;

ensure compliance with tax filing requirements;

prepare

and file Estimated Chargeable Income

("ECI");

prepare tax computation, supporting tax schedules, tax return forms and highlight any tax issues identified;

compute corporate tax;

prepare and submit annual tax returns (Form C or Form C-S) to IRAS;

handle inquiries on tax matters from IRAS;

GST registration, deregistration, exemption applications; and

Quarterly GST F5 filing to IRAS

.



3. Company Secretarial Service (includes Nominee Director & Registered Office Services)



Our company secretarial service includes the following:
conversion of

sole

proprietorship to a

private

limited company;

ensure meeting such as the Annual General Meeting (AGM) and Extraordinary General Meeting (EGM) comply with the company's governing documents;

ensure annual reports and accounts dissemination to management and shareholders;

comply with the company's governing document and statutory requirements;

conduct AGM and EGM;

incorporation of new Singapore entities;

file Annual Returns on time (AR);

maintain statutory registers and minutes book;

provide the reminder for annual filing deadlines;

complete and file statutory forms with ACRA (including changes to registered address

, company name, directors and directors' particulars);

update share transfers, restructuring, share reduction;

prepare directors' resolutions and minutes;

issuance of share certificates; and

appointment of nominee directors

.



4. Conversion of Financial Statements into XBRL format and Uploading Service



Our XBRL service (preparation, validation and uploading) includes the following:
preparing

the

financial statements in XBRL format;

clear validation errors in XBRL;

assist in uploading and submission to

ACRA; and

ensure effective and accurate filing report and provide information on new changes or amendments made in XBRL filing

.