Personal Tax Services For individual taxpayer in Singapore
Tax Advice on Taxable Income, Reliefs, Expenses and Donations



Frequently asked personal tax related questions
What are the requirements to comply with Singapore Tax rules?
What is the deadline for filing personal tax returns?
How does an individual file his personal tax returns?
What type of expenses can an individual claim deduction on the tax return?
What type of income is taxable?
2017 Budget Updates

– Announced on 20 February 2017



Personal Income Tax (PIT) Rebate
For Year of Assessment 2017, IRAS introduces PIT rebate.
Tax residents are granted a PIT rebate of 20% of tax payable and capped at SGD 500 per taxpayer.

Overview of Singapore Tax Structure for Individuals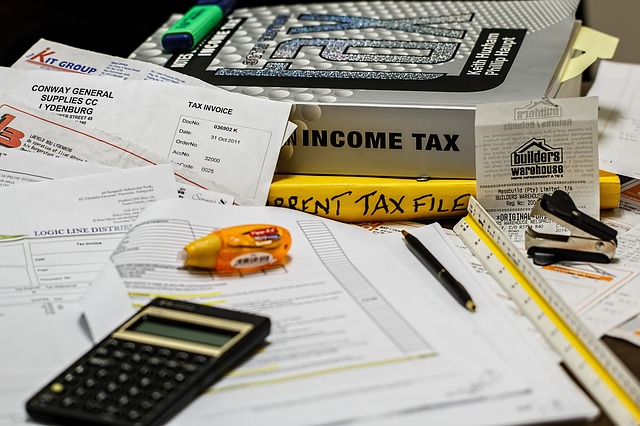 In Singapore, collected taxes are used to develop the country into a robust, stable and dynamic economy.
Inland Revenue Authority of Singapore (IRAS) regulates the tax framework and administration in Singapore.
Income tax is levied on income earned by Singapore tax resident individuals.
All Singapore tax resident individuals must comply with Income Tax Act and file accurate tax returns annually.
The respective income tax rates depend on the tax residency status of the individual.

An individual is deemed as a Tax Resident in Singapore for a specific Year of Assessment if

1. the individual is a Singapore Citizen or a Singapore Permanent Resident who resides in Singapore;

2. the individual is a foreigner who work in Singapore (excludes those who are the director of a company) for 183 days or more in the previous year.

Otherwise, the individual is treated as a Singapore non-resident for tax purposes.
Personal Tax Team assists on tax matters for individuals working in Singapore



Our experienced Personal Tax Service team is committed to helping Singapore taxpayers to manage personal tax issues efficiently.
Our tax team assist in filing up the tax forms (optimizing tax reliefs, deductible expenses and donations) and file the income tax returns to IRAS.
Our Personal tax services include:
1. Preparation of the individual's income tax returns;
2. Preparation of the tax computations for individuals, sole proprietors and partnerships;
3. Preparation of employees' tax returns (IR8A) and tax clearance (Form IR21 for non-citizen employees' cessation of employment);
4. Assist in attending to IRAS queries on individuals' tax matters;
5. Assist in applying to IRAS for voluntary disclosures of past tax errors; and
6. Provide advice on personal tax planning.

What are taxable and non-taxable incomes?



All money received (from employment, trade, business, profession, vocation, property, investments or other sources) earned in or derived from Singapore is subject to income tax (unless specifically deemed as non-taxable income in the Income Tax Act).
In most circumstances, overseas income received in Singapore are not taxable (which include the foreign sourced dividend, foreign branch profits and foreign service income).
Overseas income is taxable in Singapore when it is received through a Singapore Partnership or income from your employment overseas is part of the Singapore employment.

What type of expenses can an individual claim?



An individual can claim tax deductions on certain expenses (employment, business and other expenses – allowed under the Income Tax Act) incurred in earning the income.
Tax relief and rebates are available for deduction against tax income for Singapore tax residents who meet the qualifying conditions.
To promote specific social and economic objectives, there are some tax reliefs and rebates for particular groups of taxpayers.

What are the Resident tax rates?



From Year of Assessment 2017, the following are the progressive Resident Tax rates.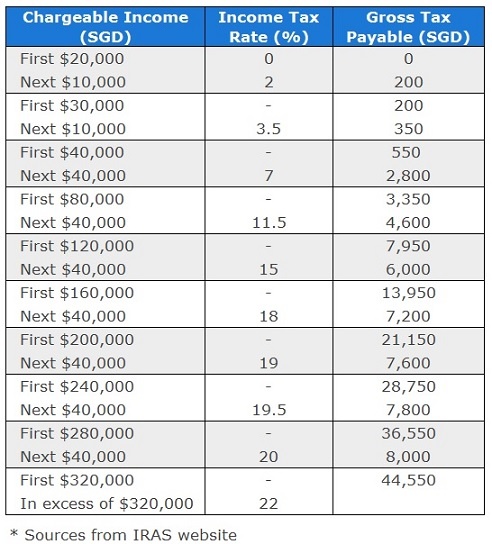 What are the Non-Resident tax rates?



Your personal tax liability is dependent on your tax residency status. For foreign employees issued with a work pass (valid for at least one year), you will be treated as a tax resident upfront.
The non-resident employment income is taxed at a flat rate of 15% or similar to the above progressive Resident Tax rates (whichever give the higher tax amount).
From Year of Assessment 2017, the non-residents' tax rates (for example, director's remuneration, professional fee, SRS withdrawal, property rental income and certain earnings) are revised from 20% to 22% to maintain parity between the non-resident tax rates and the resident individuals' top marginal tax rate.
Certain incomes (subject to conditions) are at reduced withholding tax rate of 10% to 15%.

What are the filing due dates?



All taxpayers are required to file their tax returns:
1. Electronic Filing – latest by 18 April
2. Paper Filing – latest by 15 April

Can an individual request for an extension?



Taxpayers must send in their application (before 31 March) through email, fax or post and include the following:
1. Full name as per NRIC or Passport;
2. Tax reference number;
3. Indicate clearly the reason(s) for the request; and
4. An Estimated Chargeable Income.

What are the penalties for late or non-filing for tax returns (Form B1)?



IRAS can take the following actions on individuals:
1. Levy a late filing fee;
2. Issue an Estimated Notice of Assessment (NOA);
3. Issue a summon to the Individual to attend Court on a specified date; and / or
4. Issue a Warrant of Arrest to the Individual.

Have more questions on Individual Tax filing requirements?



We support all individual taxpayers in meeting their tax obligations and the computation of personal taxation.
For individual tax filing or advice on income, expenses, reliefs, donations or other personal tax related matters, please complete the quotation form and our Personal Tax Service Team will contact you.