Company Tax Services From SGD 500 Per Annum



"We advise Business owners on tax residency, income, expenses, tax exemption and tax compliance matters."






What is included in our Corporate Tax Services?



Our tax service for ECI and Corporate tax returns filing covers preparation of tax computation (approx 3 to 10 pages depending on complexity), supporting tax schedules, tax return forms (i.e. ECI, Form C or Form C-S), and upon receiving your approval, we will submit the relevant documents to IRAS.
Do note that the basis of tax preparation is based on the accuracy and appropriateness of the accounting records (ie detailed accounting general ledgers for tax purposes) and the evidential documents (kept at your office – scanned or hard copy) to support the valuation, occurrence and completeness of the company's business transactions for the relevant financial year (or year of assessment).
To prepare ECI, the bookkeeping for the financial year must be completed and the categories of each account are grouped correctly in the profit or loss statements (with reference to IRAS categorisation of taxable/non-taxable revenue and deductible/non-deductible expenses). The deadline to file ECI is within 3 months after the close of the financial year end.
After we have completed the ECI filing and e-file with IRAS, next is to submit Form C by 30 Nov in the Year of Assessment (YA).
To submit Form C or Form C-S (i.e tax returns form) to IRAS, the company may require submitting these documents:
the company's financial statements (prepared in accordance with Singapore Financial Reporting Standards and Singapore Companies Act, Cap 50) and

tax computation and supporting schedules (prepared in accordance with Singapore Income Tax Act).
All company's evidential documentation must be kept for a period of 5 years. IRAS may conduct tax audits by examining the accounting books (i.e. sales invoices, receipts, suppliers' invoices, detailed general ledgers etc) to verify that income tax returns submitted for the relevant year of assessment are in compliance with Singapore tax laws.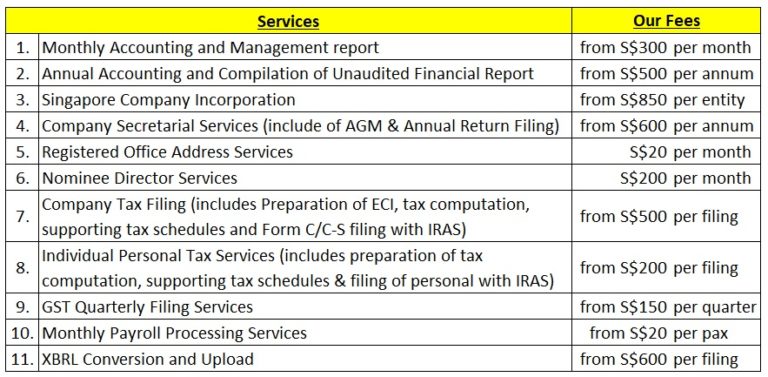 2017 Budget Updates

– Announced on 20 February 2017



Enhancement of Corporate Income Tax (CIT) Rebate
1. For Year of Assessment 2017, CIT rebate cap increased from SGD 20,000 to SGD 25,000. CIT rebate remains at 50% of tax payable.
2. For Year of Assessment 2018, CIT rebate is at a reduced rate of 20% of tax payable and capped at SGD 10,000.


Overview of Singapore Tax Structure



Taxes collected are used to develop Singapore into a better, robust and vibrant economy.



Inland Revenue Authority of Singapore, commonly known as IRAS, administers the corporate regime in Singapore.
IRAS levies income tax on income earned by companies conducting business in Singapore.
Compliance with Income Tax Act is a complicated matter, and all Singapore companies are required to ensure all tax returns are duly prepared and filed on time. In the event of non-compliance, the company may incur civil (financial), criminal (imprisonment) or penalties.

Professional Tax Team advises tax strategies for business owners



We offer corporate tax services to Singapore incorporated companies.
Our team of experienced and dedicated tax teams will assist to meet your business needs and handles the fiscal challenges.
Our tax team prepares your tax returns (maximizing tax deductions and exemptions) and file income tax returns for your company.
We will maintain your tax filing system in a systematic way which will meet the present needs of your businesses in Singapore.
Our corporate tax services include:



1. Provide advice on corporate tax planning and notice of assessment (NOA) matters;
2. Assist in preparation and filing of Estimated Chargeable Income (ECI) within three (3) months after the end of the financial year;
3. Monitor the statutory deadline and work in close cooperation to meet all compliance needs;
4. Assist in preparation and filing of Form C or Form C-S with IRAS;
5. Prepare and assist in submission of annual company tax computation;
6. Provide advice on Goods and Services Tax (GST) and Quarterly F5 form filing;
7. Assist in providing information on tax queries and draft responses to IRAS; and
8. Assist in annual payroll related tax matters for employees.
9. Advise on consequences of late filing or non-filing of tax returns.


What type of forms should the company submit to IRAS?



All Singapore incorporated companies are required to submit these forms to IRAS on a yearly basis:
1. Estimated Chargeable Income (ECI) – the due date is within three months after the end of the financial year unless the company does not need to submit ECI.
2. Form C or Form C-S – the due date is on 30 November (for paper filing) and 15 December (for electronic filing) of the year of assessment.

What are the tax exemptions for Singapore incorporated companies?



All Singapore incorporated companies (except for new start-up companies in their first three consecutive tax year of assessments and Singapore Branch) enjoy partial tax exemption as provided below.
What are the tax exemptions for new start-up Singapore incorporated companies?



The new start-up companies' tax exemption scheme was introduced in Year of Assessment 2005. For qualifying Singapore incorporated entities, in their first three consecutive tax year of assessments, tax exemptions are given to the first SGD 100,000 chargeable income (CI) and a further 50% exemption on the next SGD 200,000 of CI.













Understanding Company Tax Exemptions, Deductions and Incentives for Businesses in Singapore



In Singapore, tax exemption and other tax incentives offered to entrepreneurs are attractive, and this is one of the key reasons for many to set up their business in Singapore.
When the company received the approval from ACRA, the company may need certain services from the tax professionals.

To meet your tax obligation, we have a team of highly experienced and dedicated tax professionals to fulfill your tax compliance obligations.

As your tax agent, we assist in overall tax planning strategies to minimise tax liabilities with our in-depth understanding of Singapore Income Tax Act and Singapore Tax laws.



Our Professional Tax Team assist you to handle all Tax matters



We support your business in meeting your tax obligations and the computation of tax in specific industries including investment companies, trusts, managers, construction companies, real estate, shipping, manufacturing, etc.
Our tax professionals work in close collaboration to assist in IRAS queries on the company's tax matters including:
1. To provide the necessary assistance and advice for corporate tax optimisation strategy;
2. To assist in reviewing income tax matters;
3. To assist voluntarily disclosure of errors and negligence to IRAS; and
4. To act on your representation on tax objections and disputes.
Today the entire business decisions are based on tax implications and maintain compliance with tax laws.
An effective tax strategy has now become a critical part of a very practical and well-developed solution for businesses in Singapore.

We have in-depth experiences in providing tax advice, and tax compliance expertise.
We develop well collaborative services through identification and impact of tax strategies that can work best according to the company needs to minimise tax liabilities and at the same, comply with the Singapore Income Tax Act.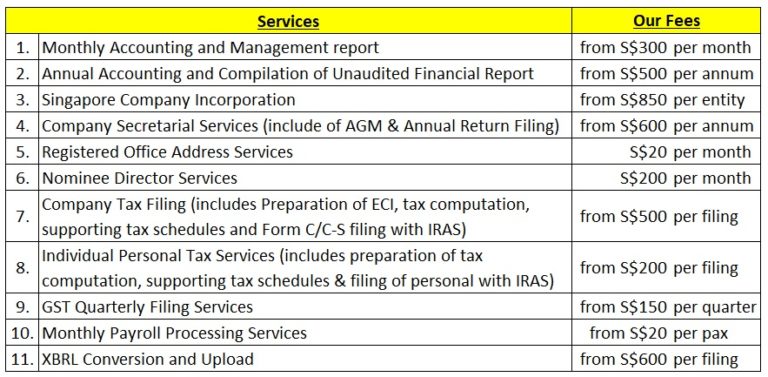 Have more questions on our Company tax requirements?



For company tax compliance, tax filing or tax advice or any tax questions, please feel free to contact us and and our Tax service team will arrange to speak to you.